This review saw Goodreads first because I forgot to post it here…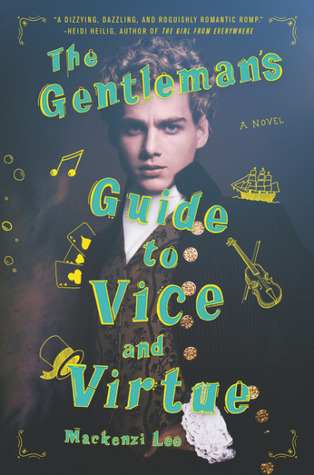 Title: The Gentleman's Guide to Vice and Virtue
Author: Mackenzi Lee
Publisher: Katherine Tegen Books
Pub. Date: June 27th, 2017
Genre: Historical, YA, LGBT
Format: eARC
Source: Edeilweiss
Rating: ★★★★
Henry "Monty" Montague was born and bred to be a gentleman, but he was never one to be tamed. The finest boarding schools in England and the constant disapproval of his father haven't been able to curb any of his roguish passions—not for gambling halls, late nights spent with a bottle of spirits, or waking up in the arms of women or men.

But as Monty embarks on his Grand Tour of Europe, his quest for a life filled with pleasure and vice is in danger of coming to an end. Not only does his father expect him to take over the family's estate upon his return, but Monty is also nursing an impossible crush on his best friend and traveling companion, Percy.

Still it isn't in Monty's nature to give up. Even with his younger sister, Felicity, in tow, he vows to make this yearlong escapade one last hedonistic hurrah and flirt with Percy from Paris to Rome. But when one of Monty's reckless decisions turns their trip abroad into a harrowing manhunt that spans across Europe, it calls into question everything he knows, including his relationship with the boy he adores.
MY REVIEW
The Gentleman's Guide to Vice and Virtue is a remarkable, witty, and outstanding adventure of a novel that will not only engage you, but enchant you. Filled with pirates, thefts, soiled reputations, and a man that deals in it all, this is a book you won't be able to put down.
Henry "Monty" Montague is trouble wrapped up in a pretty smirk that gets all the laddies and lads dropping everything to fall over him. Unless of course, they're hunting him down for a number of things such as stealing from them, sleeping with one of their women or men, or for being a drunkard. Equipped with a witty tongue and quick mind to keep the retorts coming, Monty just can't seem to stay out of trouble. Touring won't be as easy as he thinks, especially once his father puts restrictions on it and people start hunting Monty because of his quick hands. His growth in the duration of the novel amazes me simply because the author creates such realistic and flawed characters that hurt and make mistakes because of it but still find the strength to recognize (eventually) their destructive behaviour. Brave and full of armour, Monty has a long way to go before he can heal and he needs his friends with him to get through it.
The entirety of this book is an adventure. One full of scheming, thieving, and master plots. Trust is not something they can count on and when they get into tough situations, well make friends with a pirate! You won't be able to keep in the laughs, the gasps of shock, or the snorts of amusement. The author has layers in the writing, layers of wit and humour and snark that keeps you entertained and reactive to what you're reading. You will be affected by the journey the characters take and you will love every moment of it.
What I love the most about this book however, is the romance. Usually I tolerate it, maybe root for it. But I was fully immersed in this novel and all the gritty, raw, and romantic feelings it came with. I yearned for them to open their eyes and see their love for what it was. I ached to have them touch just a little more, depend on each other just a little more. It was frantic and passionate, each one of their romantic encounters and I adored every minute of it. Monty and Percy just seemed to click for me. They are a puzzle that needs only the two of them to be complete. All the heartache and misunderstandings, all the hope and despair, it was all worth it because in the end, they were still by each other's sides. Agonizingly lovable, this romance kept flickering until it burned in a passion that could be felt.
Overall, The Gentleman's Guide to Vice and Virtue is simply one of the most amazing books I have read with aspects of historical fiction and LGBT. Brilliantly written and full of inspiration, this is a novel you won't want to miss out on.