Hello Everyone!
I am excited to say that today I am bringing you a giveaway. The link can be found at the end of this post.
Blaze Publishing is hosting a giveaway to celebrate their upcoming release Digging in the Stars! Here is a little bit about the book: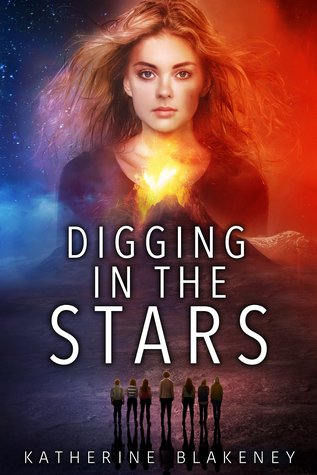 Title: Digging in the Stars
Author: Katherine Blakeney
Pub. Date: March 28th 2017
Publisher: Blaze Publishing
Genre: YA, Science Fiction
A lost ancient civilization and the tomb of a legendary king lie buried beneath centuries of ash on the volcanic planet Thror, but that's not the only reason sixteen-year-old Carter has tricked her Archaeology of Outer Space class into coming here. Her best friend Conrad has just disappeared on a trip to Thror, leaving behind little more than a broken vintage camera. The strange and disturbing photographs she manages to extract make her suspect Conrad's disappearance is somehow connected to the hidden tomb of the last king of Thror.

Unfortunately, the ludicrously over-friendly 'Furry Giants' who have taken over the planet's barren surface would rather offer her cheap souvenirs than answers, and the local officials insist they have no record of Conrad's existence. Inspired by fear for Conrad's life and the chance to make the greatest archaeological discovery of the century, Carter and her friends follow Conrad's footsteps deep into the mountains of Thror's forbidden Black Zone and launch an illicit excavation.

Coded messages, stunning ancient ruins, and clues left by Conrad himself begin to surface as the young archaeologists fall victim to an alarming series of accidents staged by the increasingly hostile Furry Giants. Piecing together a history of dictatorship, terrorism and disguise, Carter glimpses the horrors beyond Thror's flamboyant façade and startling revelations about the friend she thought she knew. The masks of Thror hide devastating secrets, and the golden tomb buried deep in the frozen core may claim the lives of everyone she loves.
Now, you're probably wondering where the prizes are, since this blog post title clearly states what it is and that there will be one. Well, the answer is, two print copies of Veronica Roth's newest science-fiction, Carve the Mark can be won by entering the giveaway below! First, here is a bit about the book:
Title: Carve the Mark
Author: Veronica Roth
Series: (Carve the Mark #1)
Pub. Date: January 17th 2017
Publisher: Katherine Tegen Books
Genre: YA, Science Fiction
In a galaxy powered by the current, everyone has a gift.

Cyra is the sister of the brutal tyrant who rules the Shotet people. Cyra's currentgift gives her pain and power — something her brother exploits, using her to torture his enemies. But Cyra is much more than just a blade in her brother's hand: she is resilient, quick on her feet, and smarter than he knows.

Akos is the son of a farmer and an oracle from the frozen nation-planet of Thuvhe. Protected by his unusual currentgift, Akos is generous in spirit, and his loyalty to his family is limitless. Once Akos and his brother are captured by enemy Shotet soldiers, Akos is desperate to get this brother out alive — no matter what the cost.
The Akos is thrust into Cyra's world, and the enmity between their countries and families seems insurmountable. Will they help each other to survive, or will they destroy one another?
Carve the Mark is Veronica Roth's stunning portrayal of the power of friendship — and love — in a galaxy filled with unexpected gifts.
Want to win a copy of Carve the Mark? Enter here!
And check out Blaze Publishing while you're at it, they've got some great books out!
~Sage