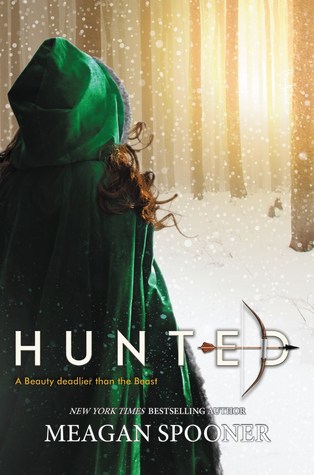 Title: Hunted
Author: Meagan Spooner
Series: (Hunted #1)
Pub. Date: March 14th, 2017
Publisher: HarperTeen
Genre: YA, Fantasy, Retelling
Format: eARC
Source: Edelweiss
Rating: ★★★★
Beauty knows the Beast's forest in her bones—and in her blood. Though she grew up with the city's highest aristocrats, far from her father's old lodge, she knows that the forest holds secrets and that her father is the only hunter who's ever come close to discovering them.

So when her father loses his fortune and moves Yeva and her sisters back to the outskirts of town, Yeva is secretly relieved. Out in the wilderness, there's no pressure to make idle chatter with vapid baronessas…or to submit to marrying a wealthy gentleman. But Yeva's father's misfortune may have cost him his mind, and when he goes missing in the woods, Yeva sets her sights on one prey: the creature he'd been obsessively tracking just before his disappearance.

Deaf to her sisters' protests, Yeva hunts this strange Beast back into his own territory—a cursed valley, a ruined castle, and a world of creatures that Yeva's only heard about in fairy tales. A world that can bring her ruin or salvation. Who will survive: the Beauty, or the Beast?
MY REVIEW
"This is no Beast, to lay such a trap for me. This is a hunter." (25%)
       Hunted is a magical tale that follows Yeva, or Beauty, as she seeks to find her father through the Beast, the very one her father so loved to tell about in lyrical stories. Hunting the forest for any hint of his presence, she soon stumbles upon the Beast and charges after him, though pain and suffering is the least of her worries soon enough. Her sisters are left on their own, with only a young man to feed them and care for them.
       The premise drew me in as I enjoy the tale of Beauty and the Beast and to for once have the female lead be a hunter, a fierce character who could perhaps rival that of the Beast? Count me in! This tale is told in third person with short bursts of first in the view of the Beast, which makes the story so much more mysterious in the beginning, giving it an atmosphere of danger. The mystery and view of the Beast is what kept the slow beginning interesting and engaging. What I also found interesting is that the typical cure is different.  The curse is told as a tale called, I believe, Ivan, the Firebird, and the Grey Wolf. It gave the story a unique feel to it almost, and made for an interesting adventure.
      Yeva is strong and willful, a skilled hunter. She means to kill the Beast, but fails to do so due to her illness. Captivity does tend to render one incapable of strength and perfect health. She becomes stronger throughout the novel, however, and learns to let things go and to keep what really matters close to you. She is brave and intelligent, and as you would assume, she does fall in love with the Beast.
"The snow is a canvas, her father would say, upon which the beast paint his past, his home, his intentions, his future." (4%)
      The writing is lyrical and lovely, full of meaning. In the end it becomes clear why the story of Ivan was mixed in, because it proves that revenge and wanting so much renders one incapable of true happiness.
      Overall, this is a rich, magical tale bound to engross you!