I read this a while back, but then proceeded to fall into a slump and now this is incredibly late. I apologize. I also apologize for how negative this review is.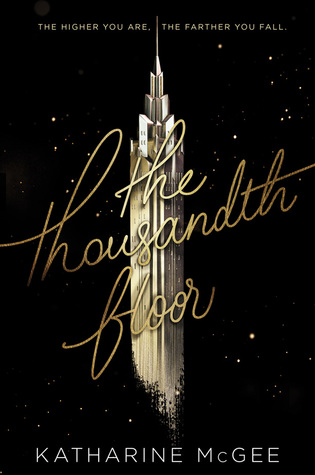 Title: The Thousandth Floor
Author: Katharine McGee
Series: (The Thousandth Floor #1)
Pub. Date: August 30th, 2016
Genres: YA, Science-Fiction
Format: eARC
Source: Edelwiess
Rating: ★.5
Goodreads || B&N || Amazon.com/ca
New York City as you've never seen it before. A thousand-story tower stretching into the sky. A glittering vision of the future, where anything is possible—if you want it enough.

Welcome to Manhattan, 2118.

A hundred years in the future, New York is a city of innovation and dreams. But people never change: everyone here wants something…and everyone has something to lose.

Leda Cole's flawless exterior belies a secret addiction—to a drug she never should have tried and a boy she never should have touched.

Eris Dodd-Radson's beautiful, carefree life falls to pieces when a heartbreaking betrayal tears her family apart.

Rylin Myers's job on one of the highest floors sweeps her into a world—and a romance—she never imagined…but will her new life cost Rylin her old one?

Watt Bakradi is a tech genius with a secret: he knows everything about everyone. But when he's hired to spy by an upper-floor girl, he finds himself caught up in a complicated web of lies.

And living above everyone else on the thousandth floor is Avery Fuller, the girl genetically designed to be perfect. The girl who seems to have it all—yet is tormented by the one thing she can never have.

Debut author Katharine McGee has created a breathtakingly original series filled with high-tech luxury and futuristic glamour, where the impossible feels just within reach. But in this world, the higher you go, the farther there is to fall….
MY REVIEW
CHARACTERS
I won't go into detail about them because the only one I actually liked was Rylin, and she wasn't necessarily important to the story. Not like the rest of the characters, anyway. She played a small part, though I do hope she's in the sequel more (not that I will read it).
Leda on the other hand, plays a huge part in the novel. She is part of a love triangle, and is also a (sorta) recovering drug addict. She is easily set off, very jealous, and is my least favourite character. She is petty, selfish, desperate, and a little… insane. Most of the characters are like her in some way.
PLOT
I don't know if it's just me or not because I haven't paid attention to what others are saying about this book, but honestly, I don't see what the plot is? To hide a murder yeah, sounds fun, but all the drama and romance take over so there's basically nothing left. I didn't find it enjoyable in the beginning, and I certainly didn't at the end when the plot was still unclear to me. What was the build up? There wasn't any. The death of that character was sudden and unexpected to the others, it wasn't done on purpose. It was a slip. A split second mistake, so the only build up was the drama unfolding more and more again.
ROMANCE
Don't get me started, please. Not only is there a love triangle (no wait, it was four people technically), it includes a brother and sister relationship (granted the brother was adopted, but still). Plus, friends immediately start manipulating others to get people on their side, along with telling lies and purposely crashing dates. The jealousy and drama is unreal, honestly. I kept reading because I had hopes the drama would dissipate or at least take a back seat to the plot, but nope.
WORLD-BUILDING
The towers were actually pretty amazing. The descriptions and power they represent was well written and presented in the novel. Not only did they play a big part in this book, they were different and I enjoyed attempting to imagine them and what living in them must be like. Especially the higher parts, when you need a helicopter to enter your home.
OVERALL
This isn't my favourite book, and I didn't enjoy it a whole lot, but it's not necessarily bad; it's just full of things I can't stand. However, if you like drama, romance, and a little murder and threat making, I say give it a try.