SHOW ME YOUR TBR is a weekly feature that showcase books that you want to read that are matched with the theme of the week. It doesn't have to be a new release. It could be an older book that would fit the theme of the week.
This was made by the lovely Aria from My Infinite Reading List, so credits go to her!:)
---
Since this weeks theme is a blue cover, I'll be sharing a few books I want to read that have a blue cover, or at least have blue on them. If you've read any of them, feel free to tell me what you thought of the book(s) in the comments!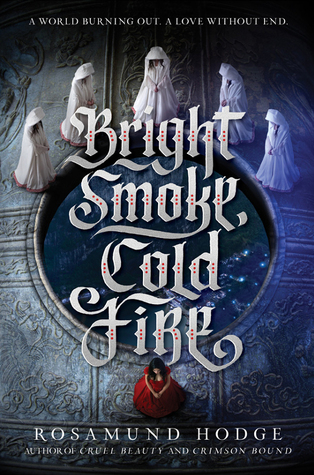 Bright Smoke, Cold Fire (Untitled 1) by Rosamund Hodge
When the mysterious fog of the Ruining crept over the world, the living died and the dead rose. Only the walled city of Viyara was left untouched.

The heirs of the city's most powerful—and warring—families, Mahyanai Romeo and Juliet Catresou share a love deeper than duty, honor, even life itself. But the magic laid on Juliet at birth compels her to punish the enemies of her clan—and Romeo has just killed her cousin Tybalt. Which means he must die.

Paris Catresou has always wanted to serve his family by guarding Juliet. But when his ward tries to escape her fate, magic goes terribly wrong—killing her and leaving Paris bound to Romeo. If he wants to discover the truth of what happened, Paris must delve deep into the city, ally with his worst enemy . . . and perhaps turn against his own clan.

Mahyanai Runajo just wants to protect her city—but she's the only one who believes it's in peril. In her desperate hunt for information, she accidentally pulls Juliet from the mouth of death—and finds herself bound to the bitter, angry girl. Runajo quickly discovers Juliet might be the one person who can help her recover the secret to saving Viyara.

Both pairs will find friendship where they least expect it. Both will find that Viyara holds more secrets and dangers than anyone ever expected. And outside the walls, death is waiting. . . .
Why I Want to Read This: It sounds pretty great, and I'm hoping for violence and action. d: It also sounds a bit unique, so I'm excited to see if that holds true.
---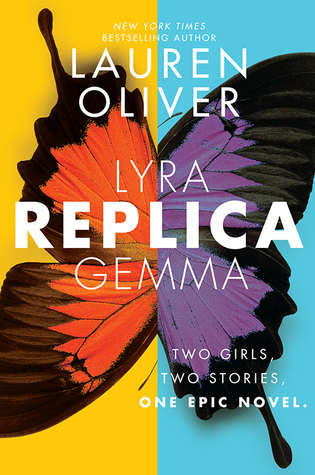 Replica (Replica 1) by Lauren Oliver
Gemma has been in and out of hospitals since she was born. 'A sickly child', her lonely life to date has revolved around her home, school and one best friend, Alice. But when she discovers her father's connection to the top secret Haven research facility, currently hitting the headlines and under siege by religious fanatics, Gemma decides to leave the sanctuary she's always known to find the institute and determine what is going on there and why her father's name seems inextricably linked to it.

Amidst the frenzy outside the institute's walls, Lyra – or number 24 as she is known as at Haven – and a fellow experimental subject known only as 72, manage to escape. Encountering a world they never knew existed outside the walls of their secluded upbringing , they meet Gemma and, as they try to understand Haven's purpose together, they uncover some earth-shattering secrets that will change the lives of both girls forever…
Why I Want to Read This: It sounds epic and mysterious, full of adventure and perhaps self discovery. I can imagine many ways this book could go, and I'm intrigued to see what path the author takes!
---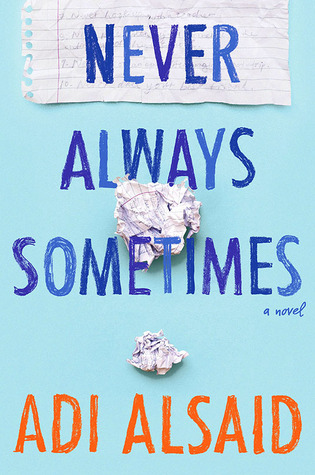 Never Always Sometimes by Adi Alsaid
Never date your best friend.

Always be original.


Sometimes rules are meant to be broken.

Best friends Dave and Julia were determined to never be cliché high school kids—the ones who sit at the same lunch table every day, dissecting the drama from homeroom and plotting their campaigns for prom king and queen. They even wrote their own Never List of everything they vowed they'd never, ever do in high school.

Some of the rules have been easy to follow, like #5, never dye your hair a color of the rainbow, or #7, never hook up with a teacher. But Dave has a secret: he's broken rule #8, never pine silently after someone for the entirety of high school. It's either that or break rule #10, never date your best friend. Dave has loved Julia for as long as he can remember.

Julia is beautiful, wild and impetuous. So when she suggests they do every Never on the list, Dave is happy to play along. He even dyes his hair an unfortunate shade of green. It starts as a joke, but then a funny thing happens: Dave and Julia discover that by skipping the clichés, they've actually been missing out on high school. And maybe even on love.
Why I Want to Read This: It sounds like a light, fun read and I've also decided to read more contemporary, so there's that. I'm pretty picky with romance because a lot of the time there's triangles or insta-love, but this one sounds innocent, honest, and true so I'd love to give it a try. I'm also looking forward to how the characters go about breaking their own rules and what they learn.
---

Stealing Snow (Stealing Snow #1) by Danielle Paige
Seventeen-year-old Snow has spent the majority of her life within the walls of the Whittaker Institute, a high security mental hospital in upstate New York. Deep down, she knows she's not crazy and doesn't belong there. When she meets a mysterious, handsome new orderly and dreams about a strange twisted tree she realizes she must escape and figure out who she really is.

Using her trusting friend Bale as a distraction, Snow breaks free and races into the nearby woods. Suddenly, everything isn't what it seems, the line between reality and fantasy begins to blur, and she finds herself in icy Algid–her true home–with witches, thieves, and a strangely alluring boy named Kai, none of whom she's sure she can trust. As secret after secret is revealed, Snow discovers that she is on the run from a royal lineage she's destined to inherit, a father more powerful and ruthless than she could have imagined, and choices of the heart that could change the fate of everything…including Snow's return to the world she once knew.

This breathtaking first volume begins the story of how Snow becomes a villain, a queen, and ultimately a hero.
Why I Want to Read This: It sounds epic and adventerous and dark! I'm always up for dark reads, and this one sounds like it will be full of action, violence, perhaps betrayal, and self discovery. This is a journey I want to experience. I want to see how dark this author will go.
---
What do you guys think? Have you read any of these, do you want to read any of these?