I used to have a page on my blog dedicated to the top 10-20 best books of the year and I would update it every time I read a book I thought deserved to be there. But, I forgot about updating it a lot so I took it down. Now I've decided to bring it back on my blog as a post because I've read some really good books this year! So instead of it being best books of the year, it's best books of the year so far. I remember seeing that somewhere, but I don't remember where, so if there's credits I'm missing and you know who they go to, please let me know!
From what I've read, I think these are some of the best books of the year so far!
A Court of Mist and Fury  (ACOTAR #2) by Sarah J. Maas
Feyre survived Amarantha's clutches to return to the Spring Court—but at a steep cost. Though she now has the powers of the High Fae, her heart remains human, and it can't forget the terrible deeds she performed to save Tamlin's people.

Nor has Feyre forgotten her bargain with Rhysand, High Lord of the feared Night Court. As Feyre navigates its dark web of politics, passion, and dazzling power, a greater evil looms—and she might be key to stopping it. But only if she can harness her harrowing gifts, heal her fractured soul, and decide how she wishes to shape her future—and the future of a world cleaved in two.

With more than a million copies sold of her beloved Throne of Glass series, Sarah J. Maas's masterful storytelling brings this second book in her seductive and action-packed series to new heights.
This book is honestly my #1 favourite book. ACOTAR was good, but definitely not as good as ACOMAF. Maas created such a beautiful world in this book, showing us different courts and secret places that either gave you the chills, or made you wish you could see them in real life. The overall atmosphere and tone completely changed in this book, and it was incredible! What I love most though, would be that characters deal with PTSD, and it's realistic and raw and honest, not overlooked or romanticized.
---
2. Nevernight (Nevernight Chronicles #1) by Jay Kristoff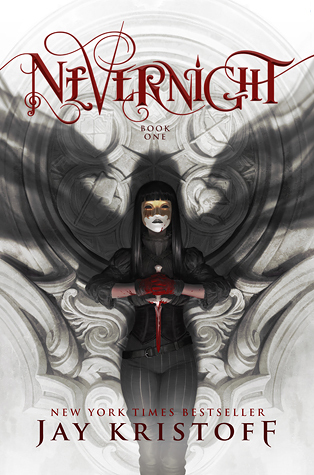 The first in a new fantasy series from the New York Times bestselling author.

In a land where three suns almost never set, a fledgling killer joins a school of assassins, seeking vengeance against the powers who destroyed her family.

Daughter of an executed traitor, Mia Corvere is barely able to escape her father's failed rebellion with her life. Alone and friendless, she hides in a city built from the bones of a dead god, hunted by the Senate and her father's former comrades. But her gift for speaking with the shadows leads her to the door of a retired killer, and a future she never imagined.

Now, Mia is apprenticed to the deadliest flock of assassins in the entire Republic—the Red Church. If she bests her fellow students in contests of steel, poison and the subtle arts, she'll be inducted among the Blades of the Lady of Blessed Murder, and one step closer to the vengeance she desires. But a killer is loose within the Church's halls, the bloody secrets of Mia's past return to haunt her, and a plot to bring down the entire congregation is unfolding in the shadows she so loves.

Will she even survive to initiation, let alone have her revenge?
This is a NA book, and I don't usually read those. Nevernight however, is my kind of dark and I enjoyed every minute of it. Murder, chaos, poison, sword fighting, magic, a school to teach you all that. Perfectly imperfect, a school made to form teenagers into cold hard killers. There is no room for hesitation. It makes dark hearts sing.
---
3. The Bone Season (The Bone Season #1) by Samantha Shannon

The year is 2059. Nineteen-year-old Paige Mahoney is working in the criminal underworld of Scion London, based at Seven Dials, employed by a man named Jaxon Hall. Her job: to scout for information by breaking into people's minds. For Paige is a dreamwalker, a clairvoyant and, in the world of Scion, she commits treason simply by breathing.

It is raining the day her life changes for ever. Attacked, drugged and kidnapped, Paige is transported to Oxford – a city kept secret for two hundred years, controlled by a powerful, otherworldly race. Paige is assigned to Warden, a Rephaite with mysterious motives. He is her master. Her trainer. Her natural enemy. But if Paige wants to regain her freedom she must allow herself to be nurtured in this prison where she is meant to die.

The Bone Season introduces a compelling heroine and also introduces an extraordinary young writer, with huge ambition and a teeming imagination. Samantha Shannon has created a bold new reality in this riveting debut.
I'm late to the party, I know. But once I started reading it, I couldn't put it down. Samantha Shannon became an immediate auto buy for me, and the only issue with that is that she only publishes a book like, every two years. And I want to cry, because I need more of this series. TBS is edgy and different from anything I've ever read. I've read fantasy, I've read gang books, I've read books involving a hierarchy and the fight to get power, but never had I read a book with all three where a gang isn't just a little mention about a group of young boys trying to be cool. Until TBS. It's brilliant, and it was a fast read.
Off track now, but is anyone else a little sad about the cover changes? I know the author is excited and happy with them, and I wouldn't take part in a petition to keep the covers the same, but I'm sad about it because I love the covers how they are, and the series isn't finished yet.
---
I would add more, like This Savage Song, The Carver, A Thousand Nights, and The Mime Order, but as much as I enjoyed those books I don't feel like they're the best of the year. There's also a lot of books that released earlier this year that I haven't read yet, so there's that.
Feel free to tell me if you've read any of these books and what you thought of them in the comments!:)
~Sage