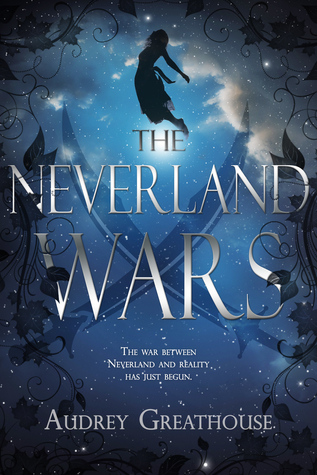 Title: The Neverland Wars
Author: Audrey Greathouse
Pub. Date: May 9th, 2016
Genre: YA, Fantasy, Retelling
Source: Netgalley
Format: eARC
Rating: ★★✰✰✰
Goodreads | B&N | Amazon.com/ca
Magic can do a lot—give you flight, show you mermaids, help you taste the stars, and… solve the budget crisis? That's what the grown-ups will do with it if they ever make it to Neverland to steal its magic and bring their children home.

However, Gwen doesn't know this. She's just a sixteen-year-old girl with a place on the debate team and a powerful crush on Jay, the soon-to-be homecoming king. She doesn't know her little sister could actually run away with Peter Pan, or that she might have to chase after her to bring her home safe. Gwen will find out though—and when she does, she'll discover she's in the middle of a looming war between Neverland and reality.

She'll be out of place as a teenager in Neverland, but she won't be the only one. Peter Pan's constant treks back to the mainland have slowly aged him into adolescence as well. Soon, Gwen will have to decide whether she's going to join impish, playful Peter in his fight for eternal youth… or if she's going to scramble back to reality in time for the homecoming dance.
REVIEW
This review is late. My apologies.
      The Neverland Wars has an interesting concept, and there was a lot of promise, but unfortunately it fell flat. Actually, it barely had any buildup, let alone some epic war you assume will happen from the title.
We start off with Gwen going to school, which is merely done to introduce us to her crush, Jay, and the idea of this party of his that she really wants to go to. Then her sister goes missing and she finds out about magic and the evil Peter Pan who steals children. She follows Peter back to Neverland the next night despite knowing it's a bad idea, and from there we get filler chapters and information about Neverland (how mermaids can read the skies and are greedy for mirrors, how Neverlanders can eat stars but they each have a specific effect such as blowing up like a balloon in your mouth, how a deer's hooves are a magical tracking device ect).
Neverland is a beautiful forest -or is it a jungle, Gwen isn't sure- filled with peaceful animals, mermaids, noisy children, and magic. There's a threat of a war, at least that's what the synopsis says, so I was definitely let down when we got two short warnings about the upcoming battle, and had one scene with bombing (which didn't quite fit the tone of the story, as if it were thrown in suddenly merely to prove war is imminent), and yes men who have living shadows do search for them in reality, but there's no epic action; where is the war we were promised?
Characters. All the children are essentially the same; carefree, happy, fearless. Bard has a maternity instinct, and Rose is a "jackrabbit", but otherwise their voices blend because of lack of diversity among voice and characteristics. Peter Pan is pretty much the same, only slightly more developed, can be serious, and enjoys calling Gwen foolish and incompetent, which she agrees with. Gwen acts more like she's 12 and not 16, and doesn't have much of a personality. She pretty much was a mix of all the characters in one, and it felt like she was merely in the story so she could create the conflict in the end: wanting to go home, getting in trouble, going back to Neverland.
What disappointed me the most however, was the ending. Gwen got back to the "real world" and instead of letting her parents (who were probably worried sick since both of their kids went missing due to evil Peter Pan's mojo) know she's alright and no, Rose isnt with her, she went to a party. The very party mentioned in the beginning that her crush is throwing. After a make out session, finding a drunk and almost dead fairy, and being hunted by living shadows, Gwen finally decides to go off to Neverland with Peter again. The End. I don't know if this is supposed to be a series, but as it stands now, it's disappointing and frustrating.
The promise of war kept me reading, and Neverland did have it's interesting adventures, but too much was left unsolved. What happened to their parents? Why did this war end with a bombing that didn't kill or injure anyone other than a burn? Is the war really over if shadows are after them? If they were able to bomb them, why can't they find them? What about Jay now that Gwen has left suddenly again? Will she come back? Is Neverland all grown and pretty again? What are the bad choices Gwen is supposed to make based on the elder's bone reading? Will they find the Piper? Why do they need the Piper?
Overall, The Neverland Wars was interesting, but it fell flat and unfortunately, disappointed me. For me, this wasn't a book I really enjoyed, but that doesn't mean you won't like it.