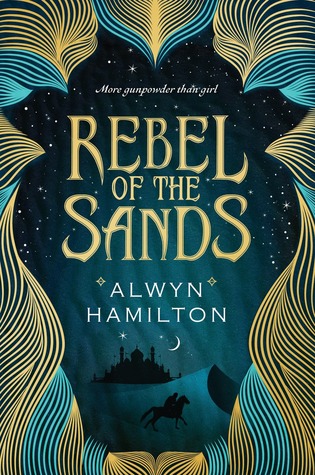 Title: Rebel of the Sands
Author: Alwyn Hamilton
Series: (Rebel of the Sands #1)
Pub. Date: March 8, 2016
Genres: YA, Fantasy
Rating: ★★★★✰
Goodreads | B&N | Amazon.com/ca
She's more gunpowder than girl—and the fate of the desert lies in her hands.

Mortals rule the desert nation of Miraji, but mystical beasts still roam the wild and barren wastes, and rumor has it that somewhere, djinni still practice their magic. But there's nothing mystical or magical about Dustwalk, the dead-end town that Amani can't wait to escape from.

Destined to wind up "wed or dead," Amani's counting on her sharpshooting skills to get her out of Dustwalk. When she meets Jin, a mysterious and devastatingly handsome foreigner, in a shooting contest, she figures he's the perfect escape route. But in all her years spent dreaming of leaving home, she never imagined she'd gallop away on a mythical horse, fleeing the murderous Sultan's army, with a fugitive who's wanted for treason. And she'd never have predicted she'd fall in love with him… or that he'd help her unlock the powerful truth of who she really is.
REVIEW
      Rebel of the sands was not easy to put down. In fact, I didn't put it down until I read the last page; it was that good. This quick and engaging read pulled me in with it's premise and kept me hooked because of lovely bonds and great world building. I was eager to get lost in the world, and the writing really helped pull me in. For me, that was what helped me overlook some things that I notice now that I have finished the book.
The writing is light and Almost sugar-coated. Faced with danger and adrenaline, violence and darkness, the atmosphere still feels light and almost daring. Most of the time however, it keeps the pace moving and it sucks you in easily. The author has a way with words, and easily weaves emotions and life into fiction so that you can connect and enjoy what you visualize. So while the atmosphere it creates may not always seem to fit with some scenes, it all comes together and you hardly notice that the pieces don't fit until after you've already read the book. That is a skill, and this author is very talented.
Amani is a character who just doesn't care, and that really made this story for me all the more enjoyable. She leaves behind family and friends, steals from those who help her, and she doesn't care. She wasn't loved much, hasn't experienced anything more than greed and hate the past how many years, and so why should she show compassion? Sharp tongued and quick minded, Amani's devious nature takes you on an epic adventure. One you'll definitely want to experience. Through hard times and newfound emotions, Rebel of the Sands likes to reel you in and stab you where you won't see it. Filled with death and darkness, who -or what- can you trust?
Unfortunately, while the author does a great job of pulling us in and making us enjoy the world, this book is still the foundation for the rest of the series. It's the first building blocks, the frame of the house. I say this because while things do happen to move the plot along, it's mostly just an introductory to the world and characters. It's not enough for readers to fully enjoy this book and it's possibilities because the introduction is only the beginning, and we need more. It is still an enjoyable read, however. It just feels like something is missing because we don't get as much as we want.
Overall, Rebel of the Sands is a journey of acceptance and belonging, love and growth, and that's only the beginning. Stone cold and deceptive, Amani changes your perspective with her journey and growth. This is definitely a book I recommend trying!