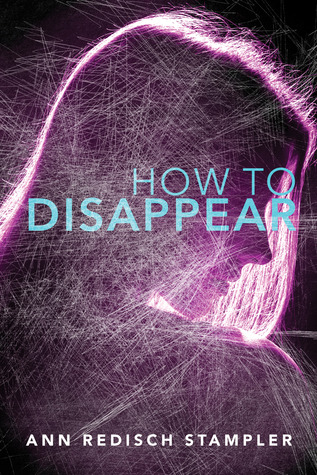 Title: How to Disappear
Author: Ann Redisch Stampler
Pub. Date: June 14th, 2016
Genres: YA, Mystery/Thriller, Contemporary
Format: eARC
Source: Rockstar BT
Rating: ★★★✰✰
AMAZON | BARNES & NOBLE | iTUNES | INDIEBOUND | GOODREADS
This electric cross-country thriller follows the game of cat and mouse between a girl on the run from a murder she witnessed—or committed?—and the boy who's sent to kill her.

Nicolette Holland is the girl everyone likes. Up for adventure. Loyal to a fault. And she's pretty sure she can get away with anything…until a young woman is brutally murdered in the woods near Nicolette's house. Which is why she has to disappear.

Jack Manx has always been the stand-up guy with the killer last name. But straight A's and athletic trophies can't make people forget that his father was a hit man and his brother is doing time for armed assault. Just when Jack is about to graduate from his Las Vegas high school and head east for college, his brother pulls him into the family business with inescapable instructions: find this ruthless Nicolette Holland and get rid of her. Or else Jack and everyone he loves will pay the price.

As Nicolette and Jack race to outsmart each other, tensions—and attractions—run high. Told in alternating voices, this tightly plotted mystery and tense love story challenges our assumptions about right and wrong, guilt and innocence, truth and lies.
      How to Disappear is an intriguing, adventurous tale about a girl running for her life, scared and lonely but incredibly determined.
Nick is a fighter and a deceiver. She runs away and disguises herself and thinks up the perfect lies at the best times, though she also fumbles and messes up. Practice makes perfect; learn from your mistakes. Men are after her, and she knows they want her dead, so when she starts getting threatening messages… She runs again, changes her identity again, deceives again. It's a downward spiral of lies, a web of intricate disguises and truths parading around maksed with false information. It's an epic adventure of danger and deceit, but even when your life is threatened, love can bloom. It's intense, dark, and raw to its core.
Nick is doing just fine on her own. She got away safely, learned from her previous mistakes, and she's very good at staying under the radar. She's a sketchy character, not above lying and deceiving or stealing. She's dark and twisted, and that's what makes this book all the better. Right from the start, you know she's guilty, especially from the hints we get from her. However, it doesn't end how you may think. The author strays from being too predictable, and it pays off. The author takes a determined criminal and lets us see into her mind, her life. It's devious, dark, just like Nick.
And then our mysterious, running-from-the-law MC meets J, a compassionate, kind guy who is too cute and too irresistible. Unfortunately for her, he's just as good at pretending to be someone he's not. Romance between the two is inevitable, and it happens quickly. It's enjoyable to read however, especially from J's point of view. He knows something about her (at least he thinks he knows) and despite that one thing, he falls in love with her. Even though he thinks badly of her character, and that he sometimes fears her or loses control because he thinks about that one thing too much.
That said, I like J. He loves his mom, is a pretty nice dude despite how his dad and brother are, and even though he had a tough childhood, he doesn't look for pity or act out or share his story to get a girl to like him. But when he loses it, he yells and he's a bit of a dick. He's also pretty messed up. It only affects him sometimes. There's a lot of psychology involved in this book,and the author doesn't hint at it or leave out the dark details. We get the raw, dark parts and it's brilliant!
As for the plot, it's pretty good. Nick is brilliant and what she shares at the end of the book… That's when you realize how smart she is and how secretive she can be, even from those she loves. She's also a bit messed up. That's probably why the romance works so well. You can't love someone 100% unless you understand them.
In this tale of love and lies, can you find the truth?
About Ann Redisch Stampler
Ann Redisch Stampler is the author of the young adult novels Afterparty and Where It Began as well as half a dozen picture books. Her work has garnered an Aesop accolade, the National Jewish Book Award, Sydney Taylor honors, the Middle East Book Award, and Bank Street Best Books of the Year mentions. How to Disappear (Simon Pulse, 2016), her first young adult thriller, will be released in June. Ann lives in Los Angeles, California, with her husband Rick.

Author Links:
Giveaway
ONE (1) winner will receive a $50.00 gift certificate for The Book Depository,  Signed HOW TO DISAPPEAR bookmarks + a Nicolette's disguise inspired Smashbox makeup kit.
***Giveaway is INTERNATIONAL***