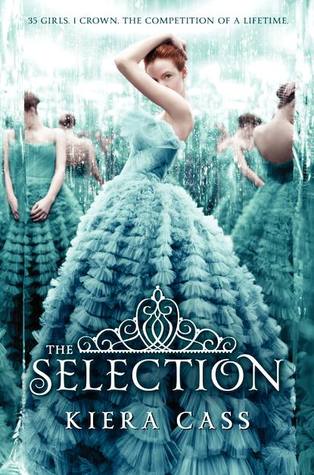 Title: The Selection
Author: Kiera Cass
Series: (The Selection #1)
Pup. Date: April 24th, 2012
Genres: YA, Dystopia, Romance
Rating: ★★★✰✰
Goodreads || B&N || Amazon.com/ca
For thirty-five girls, the Selection is the chance of a lifetime. The opportunity to escape the life laid out for them since birth. To be swept up in a world of glittering gowns and priceless jewels. To live in a palace and compete for the heart of gorgeous Prince Maxon.

But for America Singer, being Selected is a nightmare. It means turning her back on her secret love with Aspen, who is a caste below her. Leaving her home to enter a fierce competition for a crown she doesn't want. Living in a palace that is constantly threatened by violent rebel attacks.

Then America meets Prince Maxon. Gradually, she starts to question all the plans she's made for herself—and realizes that the life she's always dreamed of may not compare to a future she never imagined.
I wasn't sure what to expect from this book. It sounds cliche, predictable, and like so many other books that I didn't even want to give it a chance. But my friends love it and recommended it, so I tried it. I didn't go in expecting greatness. I didn't even expect epic romance or brilliant characters. And while it wasn't brilliant or epic are full of greatness, The Selection was an enjoyable, surprising read that whent by quickly.
America loves a boy, and a boy loves her. She's a Five and he's a Six, so they have to sneaka round. Her family is full of singers and artists, his are cleaners. She shares her meals, he saves up every penny so he can marry her. But then America gets a letter, an invitation to join The Selection, and her love convinces her to sign up. She never thought she would get picked. She never thought that she would like the Prince. And she certainly never thought that he would be interested in her.
The Selection itself is a game, a compettition between 35 girls who all want the crown. They flutter their fake eyelashes, pop out their boobs, and wear expensive dresses. However, the people have a say too. If they like a girl, she will stay in the game, as the Prince likes to keep them in mind. This game is a brutal girl fight, full of jealousy and pettiness, but America keeps her head and becomes friends with the Prince. It's enjoyable to read her development, how her thoughts and actions changed, and how she saw herself.
The Prince was nothing I had expected him to be. He wasn't cocky or arrogant, and he wasn't sure of himself. He didn't assume all girls loved him, and he never tried to take advantage of them. He is thoughtful, compassionate, and an overall great person. However, his lack of knowledge about the female population makes it hard for him to see through their masks, and he becomes friends with even the most vicious, bratty girl of them all. We also get peices of his job as Prince, the politics and desicion making. It was insightful and gave us more on his character.
The romance was slow to form, and took it's time to bloom. It was enjoyable to read, and I am definitely rooting for one guy. Yes, it is a love triangle. Though honestly, I feel one guy has no chance at all. He shouldn't even be considered anymore.
Overall, The Selection surprised me, and was enjoyable to read.