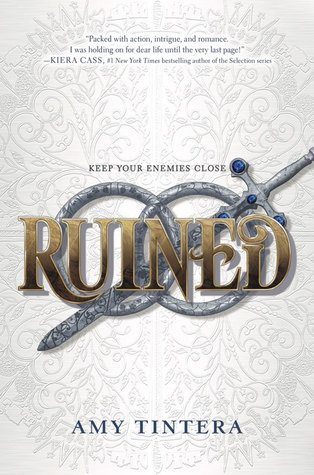 Title: Ruined
Author: Amy Tintera
Series: (Ruined #1)
Release Date: May 3rd, 2016
Genres: YA, Fantasy, Romance
Format: Ebook
Rating: ★★★✰✰
Goodreads | B&N | Amazon.com/ca
A revenge that will consume her. A love that will ruin her.

Emelina Flores has nothing. Her home in Ruina has been ravaged by war. She lacks the powers of her fellow Ruined. Worst of all, she witnessed her parents' brutal murders and watched helplessly as her sister, Olivia, was kidnapped.

But because Em has nothing, she has nothing to lose. Driven by a blind desire for revenge, Em sets off on a dangerous journey to the enemy kingdom of Lera. Somewhere within Lera's borders, Em hopes to find Olivia. But in order to find her, Em must infiltrate the royal family.

In a brilliant, elaborate plan of deception and murder, Em marries Prince Casimir, next in line to take Lera's throne. If anyone in Lera discovers Em is not Casimir's true betrothed, Em will be executed on the spot. But it's the only way to salvage Em's kingdom and what is left of her family.

Em is determined to succeed, but the closer she gets to the prince, the more she questions her mission. Em's rage-filled heart begins to soften. But with her life—and her family—on the line, love could be Em's deadliest mistake.
REVIEW
      Ruined is an enjoyable, quick, fantasy read full of action, magic, and secrets. In it, we follow Emelina as she disguises herself as a dead daughter of a Lord, to infiltrate the royal family home in order to gather the information she needs to take back her kingdom and save her people from extinction and further execution.
I was definitely drawn in by the world and the premise of this book. I didn't want to put it down, even when it became clear how predictable and simple the plot line was. I wanted to see if it got better, if we got twists and spirals of deceit and vengeance! We didn't. Fortunately though, the ending is not one I predicted from the beginning, and that was a redeeming point for me. So in spite of some issues, I enjoyed reading Ruined.
The writing is rather simple. It's strong and full of character, but it unfortunately lacks a unique voice. In the beginning there is potential for a dark, deadly tale of vengeance and retribution, and the writing hooks you. It's engaging, especially since the story opens with Em and her two friends killing Mary and her guards. It was action packed, dark, and exhilarating. Unfortunatly, the rest of the story takes a much softer turn.
Romance plays a huge part in this book. Once Em and the Prince meet, we follow their journey to romance, with only a few scenes including the danger and vengeance and darker plans until near the end. The romance is not instant, and it's actually very adorable, but there's not much connection or dimention. Cas, unfortunately, feels more like he's there merely for romantic interest as he never spoke up until he met her, and by then he only ever repeated what she said. It didn't seem like he thought for himself, making it hard to connect to him and the romance. He was the reason why Em lost sight of her determination and will. But he's also the reason why she began to see things clearly, why she developed so well. It was enjoyable to read.
There were a lot of compelling discoveries and secrets that only made me want more and more, however. Especially once we met Olivia. Her character is what I expected out of Em, and it leaves immense potential for the next book to be as dark as I hoped this one would be.
Overall,  Ruined is an intriguing fantasy read that, despite its flaws, had me turning pages quickly.