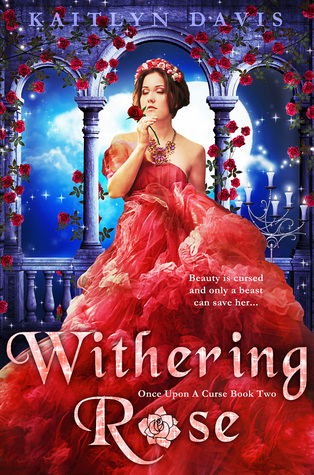 Title: Withering Rose
Author: Kaitlyn Davis
Series: (Once Upon A Curse #2)
Pub. Date: May 17th, 2016
Genres: YA, Fantasy, Fary Tale Retelling
Format: eARC
Source: YABoundBookTours
Goodreads | Amazon│Barnes and Noble│Smashwords│iBooks│Kobo
**A USA Today Recommended Series!**

What if Beauty was cursed, and the Beast was the only one who could save her? Don't miss WITHERING ROSE, a dystopian romance from bestselling author Kaitlyn Davis that reimagines the classic fairy tale of Beauty & The Beast. This is the second book in Once Upon A Curse, a series of interconnected stand-alone novels all set in the same fantasy universe.

"As the heat finally disappeared, I felt the bloom blossom in the very core of my soul, a rose just like my name—a ticking clock hidden behind a façade of beauty. From that moment on, my life would become a countdown, and all I could do was wait and watch as the petals of time slowly started to fall."

Omorose Bouchene has a secret—magic. There's only one problem. At the age of seven, an earthquake struck, catapulting her into a new world. A land made of skyscrapers and cell phones. Fast cars and fluorescent lights. A land where magic isn't supposed to exist and anyone who wields it is the enemy.

But after ten years of hiding, she's desperate to find a place where she can be free. Because all magic comes with a curse, and her curse is time—every ounce of power she uses strips days off of her life. The clock is winding down, and the only option left is to escape to the realm ruled by a man known only as the Beast. But the king of monsters isn't what he seems. And the more Omorose opens her heart, the more she comes to realize that the only person she may need to fear is herself.
Gathering Frost Buy Links:
Amazon│Barnes and Noble│Kobo│iBooks│Smashwords│Google Play
Withering Rose is an enchanting, compelling, fantastical tale about acceptance and belonging.
The beginning is a bit slow moving, and you know who she is right away, or at least you can assume based on how the first book ended. While it was interesting enough to get the plot moving, it started off with that famous outcast-in-high-school vibe, and then it shifts off into how the outcast gets invited to a party by a pretty guy and is then bullied and he doesn't stand up for her so she realizes just how lonely she really is. Then it gets really interesting. I found that the book really started in the party scene, where a set of events kick into place and settle a destiny of sorts.
The writing made up for it. The beginning was slow moving, but the flow of the writing and the way it was written allowed us to be immersed in the world without complaint. You could just feel the anticipation, the knowledge that it definitely gets better, and so you continue on and disappointment remains unable to be felt. You hope along with the main character, you feel her pain (especially during the party scene), and you root for her. She was a princess turned wallflower turned strong princess again. She learned how to pick herself up off the ground and stay standing tall through all the hurtles and hills along her path. She is not the only character who had to open up and grow, however.
I adore the beast (mainly near the end). He is a cold heart protecting the worn, frayed one beneath that still protects, loves, and yearns to be loved. He has anger issues, that much is very noticeable in the first few chapters after his introduction, and I found I didn't understand how quickly they feel in love because of it. He terrified her, chased her down, yelled for no good reason, purposely scared her, and yet she forgives him for it all. Yes, he is a lonely man with a good heart, but does that excuse the violence thrumming beneath his skin? Does it excuse his rash, violent behavior and outbreaks? No. Thankfully though, he isn't so violent after those few chapters, and he never once raised a hand to her. He was kind and compassionate, and he felt with everything he had.
My main complaint is how much filler chapters there are. After she and the beast become friends, it's all fillers about their romance, how they cuddle and kiss and grow closer. There is no action, no point other than to make sure we know how much they love each other. They both kept secrets that only come to light for the other near the end, and in the middle is only adoration and love and belonging. It's sweet and enjoyable to read, but that overwhelming feeling of nothing sits with you, because you know something's coming, but it's not for a while yet. When it does come though, it's terrifying and lovely and it makes up for all the fillers. It's a great ending to a great story.
Overall, Withering Rose is a compelling, quick read full of belonging, acceptance, and love. You'll find yourself immersed in a well-built fantasy world that you don't want to leave.
About the Author

Bestselling author Kaitlyn Davis writes young adult fantasy novels under the name Kaitlyn Davis and contemporary romance novels under the name Kay Marie.

Always blessed with an overactive imagination, Kaitlyn has been writing ever since she picked up her first crayon and is overjoyed to share her work with the world. When she's not daydreaming, typing stories, or getting lost in fictional worlds, Kaitlyn can be found indulging in some puppy videos, watching a little too much television, or spending time with her family. If you have any questions for her–about her books, about scheduling an event, or just in general–you may contact her at: KaitlynDavisBooks@gmail.com

To stay up-to-date with all of Kaitlyn's new releases, sign up for her new release newsletter here: TinyLetter.com/KaitlynDavisBooks

Author Links:

Website│Goodreads│Twitter│Facebook│Instagram│Youtube│Tumblr│Wattpad│Pinterest│Amazon
GIVEAWAY:
Info to come.
Blog Tour Organized by: