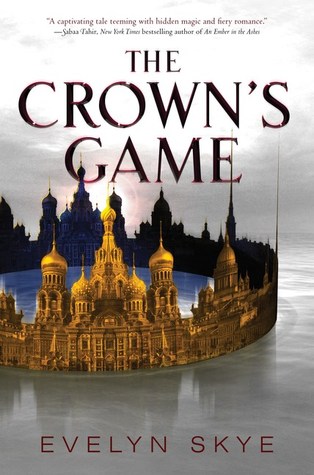 Title: The Crown's Game
Author: Evelyn Skye
Series: (The Crown's Game #1)
Pub. Date: May 17th, 2016
Genres: YA, Fantasy, Historical Fiction
Format: ebook
Source: Instagram Giveaway
Rating: ★★★✩✩
Goodreads || Amazon.ca || Amazon.com
Vika Andreyeva can summon the snow and turn ash into gold. Nikolai Karimov can see through walls and conjure bridges out of thin air. They are enchanters—the only two in Russia—and with the Ottoman Empire and the Kazakhs threatening, the Tsar needs a powerful enchanter by his side.

And so he initiates the Crown's Game, an ancient duel of magical skill—the greatest test an enchanter will ever know. The victor becomes the Imperial Enchanter and the Tsar's most respected adviser. The defeated is sentenced to death.

Raised on tiny Ovchinin Island her whole life, Vika is eager for the chance to show off her talent in the grand capital of Saint Petersburg. But can she kill another enchanter—even when his magic calls to her like nothing else ever has?

For Nikolai, an orphan, the Crown's Game is the chance of a lifetime. But his deadly opponent is a force to be reckoned with—beautiful, whip smart, imaginative—and he can't stop thinking about her.

And when Pasha, Nikolai's best friend and heir to the throne, also starts to fall for the mysterious enchantress, Nikolai must defeat the girl they both love… or be killed himself.

As long-buried secrets emerge, threatening the future of the empire, it becomes dangerously clear… the Crown's Game is not one to lose.
      Vika needs to train daily if she wishes to become the Imperial Enchanter, protector of the Royal family, so living on an island in a secluded spot where others rarely visit is her perfect little bubble of magic paradise where she can let go. Until two males stumble upon her little fire show. Nikolai deems her a deadly opponent from that moment on, and Pasha becomes intrigued and enchanted with her. That meeting kick-starts the love triangle, even though Nikolai denies it until later.
      Fortunately for Vika, she can show off her talents sooner than expected because the Game has been announced two years early! Unfortunately for me, the Game was not what I was expecting. There was no epic action, no true close calls with death. It was a back and forth of pretty lights and dancing dolls to impress Pasha, and the odd attempt to kill but never being able to fully do it. Which is my main problem. If you're to protect the Royal family, you should be able to kill threats no problem. You need to be strong, impassive, sharp in mind,  and quick on your feet. So why have a 16 year-old and an a 18-19 year-old battle it out? Their powers are not strong enough yet, nor are they themselves. You want someone experienced, powerful, and deadly to protect the Royal family. Not young kids who used their magic to provide pretty islands and dancing dolls and colourful water. It was enjoyable to read, don't get me wrong. I loved seeing what they could do with their magic, but what does it prove other than their need to impress? It just makes it abundantly clear that neither of them are -or should be- capable of being the Imperial Enchanter.
      The romance. I had so many problems with it, I don't even know where to begin. Pasha was instantly in love with her and decided to seek her out, and when her couldn't find her at the island, he decided to send her an invitation to the ball. He received no reply. He thought of her constantly, and even read books on magic to find out how she came from fire. Time passes and he realizes she's nearby, gets her an invite to the ball, and there he falls even deeper in love with her. But so does Nikolai, who dances with her and ends up creating some sort of bond with her. The insta-love is a problem, but Vika is an even bigger problem. She loves neither of them. She indicates that she may possibly like them, but it's mostly just her going on and on about the magic that draws her to Nikolai. And then when they both ignore her, she asks herself if the almost-kiss, and the dances meant nothing, as if she loves them both. But really, it seems more like the attention is something she enjoys. I will admit that I preferred her "romance" with Nikolai. It was the most enjoyable to read, and I did like them together.
      The world-building blew me away, though. It's clear how much the author loves Russia and their food. If I hadn't already known that, this book would've set it in stone. Immense research and knowledge was poured into this world to make it as real and descriptive as possible. The language, food, clothing, and locations were brilliantly written. I loved everything about it.
      Overall, The Crown's Game is an enjoyable read, and while it wasn't what I expected, it's still a book I would recommend trying.