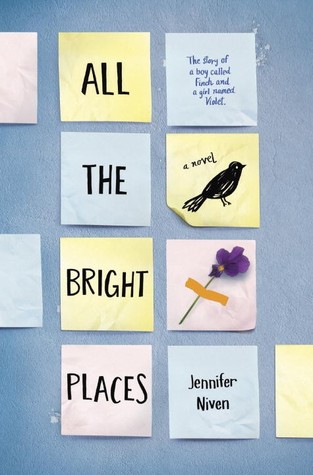 Title: All the Bright Places
Author: Jennifer Niven
Pub. Date: January 6th, 2016
Genre: YA, Contemporary, Romance
The Fault in Our Stars meets Eleanor and Park in this exhilarating and heart-wrenching love story about a girl who learns to live from a boy who intends to die.

Soon to be a major motion picture starring Elle Fanning!
 
Theodore Finch is fascinated by death, and he constantly thinks of ways he might kill himself. But each time, something good, no matter how small, stops him.

Violet Markey lives for the future, counting the days until graduation, when she can escape her Indiana town and her aching grief in the wake of her sister's recent death.

When Finch and Violet meet on the ledge of the bell tower at school, it's unclear who saves whom. And when they pair up on a project to discover the "natural wonders" of their state, both Finch and Violet make more important discoveries: It's only with Violet that Finch can be himself—a weird, funny, live-out-loud guy who's not such a freak after all. And it's only with Finch that Violet can forget to count away the days and start living them. But as Violet's world grows, Finch's begins to shrink.

This is an intense, gripping novel perfect for fans of Jay Asher, Rainbow Rowell, John Green, Gayle Forman, and Jenny Downham from a talented new voice in YA, Jennifer Niven.
      I kinda sorta hate this book. I cried. I wanted to throw it against the wall. I wanted more. I connected too deeply and it hit too close to home. But it didn't all at the same time. I loved it. I hated it. I don't really know which I feel more. Some might say that's what a talented author does, and that made this is a fantastic, amazing and brilliant book. I'd usually agree. Well, I do agree. But at the same time, I feel like utter poo now that I've finished it. It's draining, and all I want to do is curl up in a ball.
Despite my intense emotional responses in two places in the book, the book itself wasn't too emotionally connected. The writing had a disconnected tone about it, which really helped in those scenes of utter darkness and drowning because it gave it that dark, ominous and dead feeling, like you're empty and all you want is to be gone and resting and free. But it didn't work so well for the rest, which is adventurous and full of romance. It still feels disconnected, which makes it feel like even through all this happiness and realization that you love and can be loved, it's not enough. Which works for the most part, I admit, considering everything the character's have gone through, but at some points it just leaves you not really knowing ho to feel. Do you care or not? Do you connect or not?
The plot is great. It's adventurous, cute, and it was amazing to read about all these new places and their meanings! Though, to be honest, I skipped a bit of the end because I didn't want to know the meanings of the places without one of the main connections. It was still great though. It was also great to read about why they were important to the characters, how they impacted or inspired them. It was an experience that seemed so real and alive that it felt like I could go out tomorrow and experience it all for myself! The writing flowed well and described everything brilliantly, and I definitely got way too attached to everything.
I like the characters. Theo was odd. He was… eccentric, hilarious, intelligent, and I connected with him way too much. He loved music and writing and he was overall very artistic and lovely. He was dark too, though, which balanced it out. Violet was normal. She went through hard times, loved, got better, and she also loves writing. I don't really know. It was all too similar to The Fault in Our Stars, which is probably why I cried in the end. Which is also why I probably want to hate this book for breaking my heart. The author does it so effortlessly.
I expected it to happen, the ending I mean, but I wanted something different so badly. Because I feel like my heart has been ripped out of my chest now, and I hate it when that happens. It's a whirlwind of emotions that you can't escape, even if you're an unfeeling robot like me.
Overall, All the Bright Places is an emotional whirlwind of bitter sweet darkness, a light at the end of the tunnel, and the sweet, sweet melody of freedom.