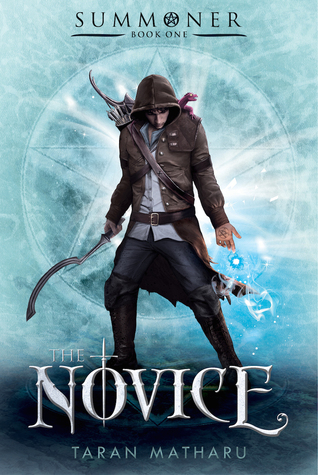 Title: The Novice
Author: Taran Matharu
Series: (The Summoner #1)
Pub. Date: May 5th, 2015
Genres: YA, Fantasy
Format: ebook
Source: FFBC
When blacksmith apprentice Fletcher discovers that he has the ability to summon demons from another world, he travels to Adept Military Academy. There the gifted are trained in the art of summoning. Fletcher is put through grueling training as a battlemage to fight in the Hominum Empire's war against orcs. He must tread carefully while training alongside children of powerful nobles. The power hungry, those seeking alliances, and the fear of betrayal surround him. Fletcher finds himself caught in the middle of powerful forces, with only his demon Ignatius for help.

As the pieces on the board maneuver for supremacy, Fletcher must decide where his loyalties lie. The fate of an empire is in his hands. The Novice is the first in a trilogy about Fletcher, his demon Ignatius, and the war against the Orcs.
      The Novice is an interesting fantasy read full of pokemon references and battles between races.
I wanted to read this book because it's a fantasy book (I love fantasy), and the author originally wrote it on Wattpad (which I also love). I had high hopes. I expected a lot, I wanted a lot. I shouldn't have. I didn't get what I expected, and I also didn't get a lot more than an annoying main character and a few others with anger issues.
The first half took everything I had to get through. The beginning was slow, dull, and not all that enjoyable. It took me a week and a bit, pushing myself to the limit, to get through it. I didn't even mark it as currently reading on here until I made it to almost %10 through, and that took two or three days. I'm horrible, I know. It didn't help that the characters, unfortunately, were rather similar and had no real development, and enjoyed being bullies like little bratty 12-year-olds.
Even in the second half there was no real difference between the characters, other than half being manipulative and happy about it, and the other half feeling guilty about it. They also act dramatically, to literally everything. It was also predictable. I mean, of course Fletcher befriends the elves and the dwarves and two teachers who all support him to no end even when he makes mistakes. They get him out of trouble, they give him tips, and they help him get what he needs to win the tournament. Of course he will gain their friendship and alliance when they so obviously hate his race for being racist and power hungry. And of course Fletcher is the son of a powerful man! And let's not forget that he does hardly anything to gain such amazing power and home it into a skill. It's all reckless chance that he even survived.
The only things I liked, really, were the pokemon references (because demons and magic and infusion are great, and their lessons were my favourite part), and the action (because who doesn't love action?). They weren't spectacular, or mind blowing, but they were still the best part of this book because they didn't annoy me so much and they actually had development. Somewhat.
The world building and politics and magical background could be built upon. We get parts of the foundation, but not much of the building or the history.
The writing didn't have a great flow to it. It didn't engage me. It didn't make me love or root for any characters and it certainly didn't make me feel sympathetic for any of them. Most of them deserved what happened to them, and others were too cocky and needed a friendly reminder. They all got mad and lost their cool over little things. They were all too emotional with their anger (they overreacted to practically everything in anger with red blazing cheeks), and they weren't really different. I wanted diversity, especially with the other species there, but we got different appearances and similar personalities. It was hard to tell who was supporting who until I came across a name and realized, or I read their demon's name/description.
Overall, I most likely would've DNF'ed if I didn't need to read the second book for my place on a blog tour. This book just didn't grab me, but I'm hopeful the next one will since the second half showed a lot of promise of getting better.