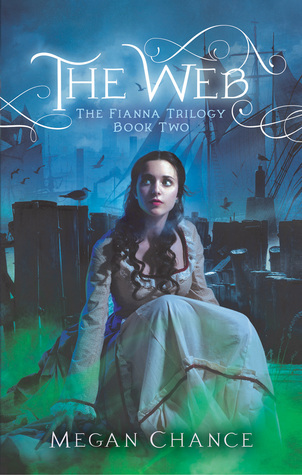 Title: The Web
Author: Megan Chance
Series: (The Fianna Trilogy #2)
Date Published: January 20th, 2015
Genres: Fantasy, Young Adult, Paranormal
Format: Ebook
Source: NetGalley
In Victorian New York, seventeen-year-old Grace Knox is tangled in the web of an ancient prophecy.

The Fianna, legendary Irish warriors, have been magically called from their undying sleep to aid Ireland in its rebellion against Britain. But the Fianna have awakened in New York alongside their bitter enemies, the Fomori. A prophecy demands that a Druid priestess—a veleda—must choose between these two sides. Grace is this veleda.

But being the veleda means she must sacrifice her power—and her life—to her choice. On one side are her fiancé, Patrick Devlin, and the Fomori. On the other are the Fianna—and the warrior Diarmid Ua Duibhne, with whom Grace shares an undeniable connection. Patrick has promised to find a way to save her life. In three months, at the ancient ritual, Diarmid must wield the knife that kills her.

Grace doesn't know whom to trust. As dark forces converge on the city, she struggles to discover the truth about her power. Can she change her own destiny? Can she escape the shadows of the past and reach for a future she could never have imagined?
Rating: 4/5 Stars
      A choice must be made. Grace knows that all too well as she struggled to find the truth and pick a side to support.
The action is great. I got sucked in and almost wished I could be there to see it play out. There was blood and chaos, and it wasn't slow paced at all. It was very satisfying. Especially since it shed light on some characters and their motives while also moving the plot along. It's through the fights that we learn some of Patrick's secrets and begin to wonder where his loyalties truly lie.
The world building improved as we got to learn more about what resides in their world and their history, like Celtic legends and magic. The sidhe were actually pretty creepy at first, always hungry and lured by power, deceiving and tricking and manipulating like it's what they live for, which they probably do. Some grew on me though. They're intelligent and cunning; they're the kind of allies you want in a war. We also got more descriptions and locations, and more details on gangs and how things work. Loyalty is strong, but it can't always hold against money and power.
The Fomori are epic deceivers. I never trusted them, not once with all we learned. They are charming and polite and they come off as simply doing everything they can to help Patrick. I was wary every time they were with Patrick, talking about strategy and how they need Grace and maybe it's okay if certain things happen…
The magic and mystery really kept me intrigued. I wanted to know how Grace's power would be released and if it would be, as well as if they'd find what they need. Some twists I never saw coming made me love the story more, while one or two of them left me feeling like there was no build up or development to them.
Overall, I like this serious well enough so far that I'm definitely looking forward to the last book.